Campus Internships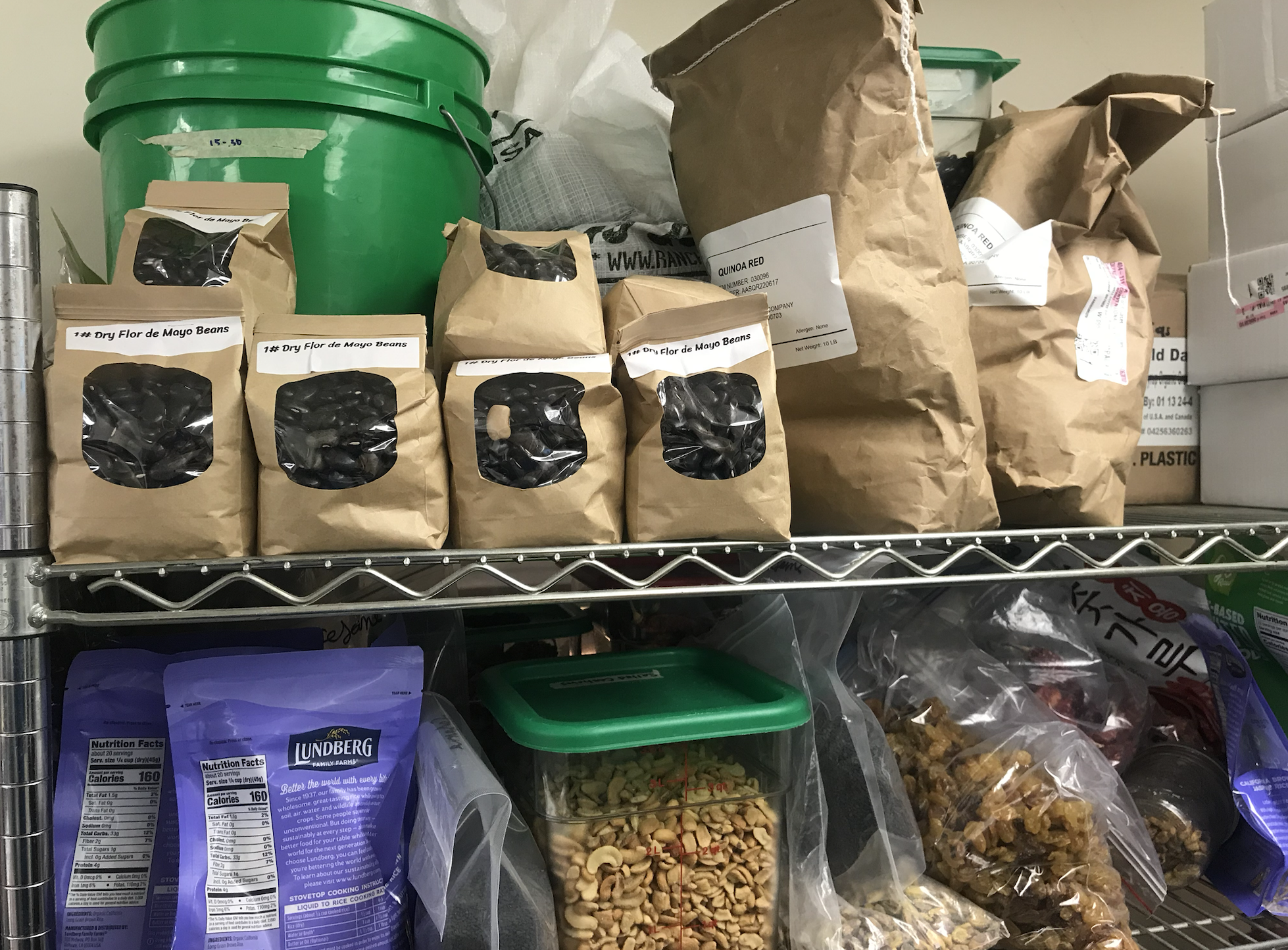 Cowell Coffee Shop 
---

Ants in Tropical Forest Restoration Research

Listing also found in the Research tab.

Contact: Christina Blebea, cblebea@ucsc.edu

NOTE: This internship is available beginning in Fall 2023

Do you want entomological lab work experience? Sign up to assist Graduate Student Christina Blebea with research on ant communities in tropical forest restoration! We're discovering how ant assemblages change during restoration. Students will get hands-on experience with insects in the lab, learning how to prepare specimens and collect morphometric data. No experience is required. 

---

Arboretum

UC Santa Cruz Arboretum and Botanical Garden

Offers a variety of internship opportunities

Listing also found in the Conservation tab. 

Contact Person: Brett Hall brett@ucsc.edu (please put Interactive Ecology in the subject line), (831) 212-4853

Interactive Ecology Field Study interns will work in the California Native Plant Program through guided independent field studies focusing on plant community ecology, plant species identification (even in the fall), topics in biogeography, conservation and stewardship.  In addition to field trips and subjects covered as a group, participants will select areas of special interest with guidance from the Agency Sponsor to pursue independently. Relevant reading and short writing assignments will be an ongoing component of the course. Five-unit interns are best suited to this internship.

There will be at least one weekend (two to three day) field trip.

2) UCSC Arboretum & Botanic Garden - Horticulturist Internship

Gain hands-on experience working with staff horticulturists in a variety of gardens. Learn about the growth and care of plants from Australia, South Africa, Chile, and New Zealand. Your experiential learning will be supplemented by weekly readings and other assignments.

Work changes with the season and is project dependent, some skills you may acquire in the internship include:

Plant identification

Aesthetic and structural pruning 

Landscape maintenance and Fine gardening

Arboriculture

Integrated Pest Management

Irrigation installation and maintenance

Battery operated tools, chainsaws, and small engine equipment use/maintenance

GIS mapping and Collection Management 

Public Garden Management and Visitor Engagement

Contact Jose Rodriguez

, Gondwanan Horticulturist & Garden Steward, for more information and to set up an interview. (831) 502-2306; jrodri22@ucsc.edu

The internship is a 5 Unit upper or lower division ENVS course or 2 unit internship. 5 Units requires 12 hours per week (120 per quarter). 2 unit internships are 6 hours per week or 60 hours per quarter. 

3) Native Plant Program Garden Interns

The Interactive Ecology internship at the UC Santa Cruz Arboretum is a space to learn about all that we do here and be a part of our work in the gardens. This two or five unit internship is a part of the Native Plant Program, stewarding and caring for roughly seventy acres of the Arboretum and three nursery areas as well. Most of our work in the gardens is in the California Conservation Garden, the Laurasian Forest, and World Conifer Garden, and our work in the nurseries feeds the work we do in the gardens. 

Interning with us is a great way to learn new horticultural skills, explore topics surrounding conservation and botany, enjoy the outdoors, and be a part of a vibrant community and landscape. Work changes with the seasons but generally can look like: planting, nursery watering and garden irrigation, weeding and invasive plant removal, germination and propagation, seed banking, mowing, pruning, aesthetic garden care, and more. 

There will be supplemental readings and writing, presentations, and discussions. The Arboretum values conservation, research, education, and connecting people with plants, and our internship is a great way to learn and get involved. Work can be physically challenging, fun, and rewarding! Please feel free to contact me should you want to know more.

Contact: Jeremy Silberman, jfsilber@ucsc.edu   

---

Campus Natural Reserve

Contact: Alex Jones, asjones@ucsc.edu (831)459-4971

The UCSC Campus Natural Reserve provides numerous opportunities for internships and student projects involving plants, animals, forest ecology, restoration and stewardship. These offerrings include: FERP, Stewardship assistant, Phenology Litter Traps, Tomography, Herpatology, or even an opportunity to create your own internship. 

Forest Ecology Research Plot (FERP) woody plant recensus--40 interns needed

Does the idea of spending six hours per week in the forest with new friends, feeling the winter sun filtering through the canopy, catching occasional rain drops, witnessing the first blooms and birdsong of the year, and collecting data for a globally-connected research project sound appealing? If so, we invite you to participate in research on the 

Forest Ecology Research Plot (FERP)

 as a field technician on our long-term woody plant census project. The FERP is part of the 

Smithsonian Institute's ForestGEO network

: a global network of forest plots that are allowing us to track the dynamics of forest structure and composition around the world. You will work in a small crew of fellow students to find and measure tagged trees and tag and map new stems as we begin a recensus of the 16 hectare plot.

The FERP is part of the UCSC Upper Campus and is about a 25 minute walk from Science Hill. As an intern you will earn 2 units of credit by enrolling in ENVS 184 via the ENVS Internship Office. You will complete 60 hours of project work: 9 of 10 field shifts during the Quarter (54 hours total) and a few simple FERP assignments (6 hours).  Read more about the internship

 here

.

The internship is a convenient way to explore your interest in forest ecology while contributing to vital global research. We see something new every time and it's a great way to meet people with similar interests. 

Shift times:

  Our shifts run in a 6 hour block, once per week. You would work on one of the following shifts, sticking with the same shift each week.

Special notes:

Make sure you're prepared with gear, etc

.: We will provide you with tools, gloves, and other equipment needed for your specific project, but you'll be responsible for keeping yourselves comfortable and nourished. This means dressing in layers, having 

rain gear

 if it's going to rain, having sturdy shoes or 

rain boots

 if it will rain, a hat if it's sunny, etc. We have a few sets of rain gear, but not enough for everyone. You can get a cheap pair of rain pants and rain jacket online--doesn't have to be fancy, can be ~$20.  Also make sure to bring enough water and food, including snacks and lunch if your shift straddles that time period. A good attitude, willingness to work hard and have fun, and lots of curiosity and enthusiasm are really helpful as well. If you have a beater pair of shoes or boots, best to wear those, as they will definitely be exposed to poison oak oils.

If you know you are highly sensitive to poison-oak oils, the FERP is not for you

 ---we wear gloves and full-body coveralls, but your footwear, and your skin if you're not careful, will be exposed to poison-oak oils. It is a woody plant, so it's actually part of our study and we do actually measure it!

We will be out in the woods for a full 6 hours! 

In addition to the above information about staying warm, fed and hydrated, you may want to bring other supplies to keep yourself comfortable out there. We have some extra toilet paper and sanitary products, but you should plan ahead and be prepared to spend 6 hours away from campus.

 

Stewardship/Ohlone Tiger Beetle monitoring internship--2 interns needed

Shift times:

  Our shifts run in a 6 hour block, once per week 

Assist with a wide variety of stewardship tasks on the Campus Natural Reserve and surrounding campus natural lands. Stewardship projects include the following: (1) woody plant removal from coastal prairie, (2) coastal prairie monitoring (3) management of invasive plant species, including surveillance, monitoring, identification, mapping, and removal, (4) trail maintenance and erosion control on reserve trails, (5) assisting with trail closures, (6) cleaning out abandoned camps and other forest and meadow trash piles, and (7) installing signs and fences. We will also begin monitoring federally endangered Ohlone tiger beetle adults in coastal prairie habitats beginning in late January. This work involves counting adult beetles along road and trail transects--not rocket science, but part of an important regional effort to conserve this endangered species. Throughout the course of the Quarter interns will visit diverse habitats in various portions of the Campus Natural Reserve, and will pick up some natural history of various plants and animals along the way. Internships require punctuality, a strong work ethic, and the ability to work outside in all weather conditions in rough, uneven terrain and in dense thickets. Interns will gain experience with a wide variety of skills needed to manage and maintain a natural reserve that receives significant human use. Training on the safe use of hand tools will be provided. Interns should wear closed-toed shoes, long pants, and should have a long-sleeved upper layer they can put on when we work in dense vegetation. Interns should also bring lunch and enough water for the day (1 to 2 liters). Alex Jones, UCSC Campus Natural Reserve Manager, will communicate each week's meeting location via email or text, so it is extremely important to be diligent with checking your UCSC email account and phone

Campus Natural Reserve rapid assessment--2-4 interns needed

Shift times:

  Following training you will be able to determine your own schedule in conjunction with other interns or IDEASS students

Work with the Campus Natural Reserve manager and students from IDEASS to survey the newly expanded Campus Natural Reserve. The rapid assessment will include navigating on and off-trail and using a mobile data collection platform (you know, an offline app, not some kind of cool hovering and scooting platform that you'd sit on and cruise through the forest whilst collecting data) to record photographs, a variety of human impacts, rare species, invasive species, and more, within 50m2 grid cells across the reserve. Field work will be done in groups of two or more students. This will be an excellent way to get to know campus natural lands while contributing valuable information that will inform reserve management.

---

Center for Agroecology (CfA)

Listing also found in Agroecology and Plants and Summer tabs. 

Contact: Damian Parr, dmparr@ucsc.edu 

The UCSC Center for Agroecology is offering a lower division production internship focused on field-scale harvesting and orchard care, as well as general market garden-scale cover cropping, bed tillage, composting, and propagation.  

The production sites include the Chadwick Garden, Farm Garden and the Field. Internship activities with the Basic Needs and Cowell Coffee Shop include produce distribution through pop-up and pantries, and meal preparation, cooking and serving. 

The internship will include a cohort of approximately 15 interns, working as a team.  Each year, a number of paid student staff positions are available to graduates of our internship program.

---

Demeter Seed Library

Contact:Francis Ge, fmge@ucsc.edu or (831) 247-0695 or demeterseedlibrary@gmail.com

The Demeter Seed Library is a student-led organization under CASFS that is dedicated to preserving and breeding locally adapted cultivars and open pollinated seed varieties in California's Central Coast. We aim to demonstrate a society that is not reliant on large seed companies and multinational corporations that control the global food system. Through seed saving and seedswapping we hope to contribute towards a more sustainable food system. Interns will help with organizing inventory, conducting germination tests, tabling at events, and distributing seeds to the community. 

 

---

Dung Beetle Internship

Contact: Suzanne Lipton, suzannelipton@ucsc.edu

 

 

Are you interested in learning about soil arthropods in agroecosystems and
gaining experience in a lab? Internship positions are open to help with a project
examining how management practices and landscape cover influence dung
beetle abundance and diversity in the Central Coast region. Following up on
data collected in the field in the spring and summer, interns will learn to use a
Leica microscope camera to take dung beetle images for beetle identification,
and will help collect and collate metadata for the project. No prior experience is
required, but an interest in arthropods, agroecology, and/or learning about
experimental data analysis is a plus. Reach out to Suzanne Lipton at
suzannelipton@ucsc.edu to apply for 2 or 5 credit internships.

---

Education for Sustainable Living Program

The Education for Sustainable Living Program (ESLP) is a student-led organization committed to empowering students to take action in the climate crisis. Our program creates collaborative learning environments through UCSC-accredited courses for students of all backgrounds to learn the skills needed to transition toward a society that prioritizes the planet and its people. ESLP works to foster co-intentional learning between students, while creating a culture where students can take action. We are seeking organizers to join us in creating environmental education opportunities for fellow students on campus.

As an organizer with ESLP, you will contribute to the development of the two ESLP student-led courses in the winter and spring. You will have the opportunity to plan and design these courses as part of the ESLP team, and gain important skills and knowledge of facilitation, communication, coordination with guest speakers from around the globe, designing a curriculum, collaborating with other organizations, and more.

Interning with ESLP is a yearlong commitment, as the work completed during each quarter actively contributes to the end result of ESLP's environmental education courses, though we encourage any interested student to reach out and ask if ESLP is looking for support mid-year.

 

 

---

Greenhouse Project

Available Spring & Summer 2023

This is located at the UCSC Farm

Contact: L Gilbert & Dav Bell, lgilber1@ucsc.edu 530-575-7965

 (cell)

The Greenhouse Project is an intergenerational educational space that explores
the relationship between art, food, and climate justice. The project is currently
being built at the UCSC farm and includes the creation of a small, wooden
structure that will serve as a gathering place for students and community
members and a 1-acre community garden, with a focus on native plants and
grassland restoration. In the Spring of 2023, we will host a series of programming
around the theme of seeds, that will include events, workshops, performances, art
installations, etc. Interns can focus on an area of interest to take on leadership
(gardening, building, education, social media) or participate in all aspects of the
project.
Prerequisites: Outline the skills and background information necessary to participate in this internship. An openness and willingness to learn and collaborate! The given number of hours per week varies from 5-15. No previous experience is necessary. This internship will be most exciting for students interested
in agroecology, art, and education. 

---

Greenhouse (UCSC)

 Listing also found under Conservation

Contact: Sylvie Childress sylviechildress@ucsc.edu

 The UCSC Greenhouses grow plants for research,   course instruction, and ecological restoration and
 conservation. This internship focuses on ex-situ     rare  plant conservation. The work will mostly take   place in the UCSC Greenhouses, with at least one   off-site field work day. Students participating in this   internship are eligible for a stipend.
 

 

 

Interns will assist with:
- Growing plants for seed increase of local CRPR (California Rare Plant Ranked) species, with end
goal of producing seeds for long term storage in a seed bank
- Create mounted herbarium specimens
- Growing and outplanting individuals of the rare Santa Cruz Tarplant (Holocarpha macradenia)
- Recording information related to plant growth
- Gathering and analyzing data from seed germination experiments
- Drafting Propagation Protocol documents to contribute to a national database of plant propagation
methods
Learning objectives include:
- Learn about the conservation challenges facing local rare plants
- Understanding the seed ecology of plants in a variety of habitats
- Gain familiarity with standard and creative methods of breaking seed dormancy in California native
plants
- Acquire horticultural skills in cultivating plants from seed to seed-set

Strong interest in plant conservation is the only requirement! Some background in plant biology and statistics
is strongly preferred (not required). If interested, please email Sylvie Childress (sylviechildress@ucsc.edu)
and describe any relevant coursework, personal experience, and interest in these areas.

---

Kapucinski-Sarker Lab

Contact: Pallab Sarker, psarker@ucsc.edu

Interns will assist the team to set-up and carry out experiments to assess suitability of novel feed ingredients for potential inclusion into diets (nutritionally complete pellets) for farmed fish. We are also interested to use water from our recirculating aquaculture systems to provide nutrient-beneficial water for crop irrigation on the CASFS farm.

---

Kresge Garden Cooperative

Kresge Garden Internship

Listing also found under Agroecology & Plants

Available for Spring 2023!

Contact:garden-coop-core@googlegroups.com and/or Natasha Janowski, njanowsk@ucsc.edu 

Ever wondered why 100% sustainable food systems are well established and practiced by indigenous communities worldwide, taught in classes, and desired by the majority of people, yet they are hardly ever implemented at large scale in the U.S?  Us too!

The Kresge Garden co-op, a non-hierarchical organization run by queer student workers, is offering a 2-unit internship focused on how we can build sustainable food systems outside of the limitations of a capitalist market. 

We are the oldest student run garden on campus as well as the only campus garden that is run by a co-op. 

The 2-unit internship will cover topics such as sustainable gardening practices, consensus based community decision making, reciprocal relationships with land, herbalism, food justice, and history of labor organizing in our area.

Interns are required to complete 60 hours of work over the quarter, which will mostly be in the garden but could also be in helping to manage the social media, reading, or discussing topics together, etc. This does not include journal writing, the final paper, attending meetings, or doing optional readings. There is a weekly journal entry (about 500 words) and a final paper (about 1500 words of reflection) regarding the internship. Fulfills PR-S General Education Requirement. Katie 

Monsen, 

kmonsen@ucsc.edu, is available as a faculty sponsor for this Internship in Spring 2023. 

Taking the internship for credit/grade is not required.

Check out their Instagram @kresgegarden for updates.

---

Life Lab

Listing also found in Campus Internships tab.

Contact: Cara-Alexandra Sundell, cara@lifelab.org

Internships with Life Lab at the Blooming Classroom Garden and Amesti School! 

Come enjoy the season in the garden and get school credit.

Interns receive training in: Garden-based science education, working with children in an outdoor setting, organic gardening, garden development projects, environmental education, games, activities, and much more!

Interns teach and work on garden projects all quarter.
2 credits are available through the Environmental Studies Dept.

Learn more about the Garden Classroom at the UCSC farm

here

. 

For information, sessions look at the schedule

here

. 

---

Norris Center for Natural History

Listing also found in Environmental Education tab.

The Norris Center welcomes students who are interested in natural history and want to get hands-on experience with a natural history collection in a meaningful way. 2-unit and 5-unit internships are available to students interested in creating their own projects or continuing long term projects. Past projects have included taxidermy, creation of exhibits, cataloging various collections, creating online natural history resources, teaching classes, leading hikes for campus groups, and writing natural history based books/curriculum. We have a diverse collection including an herbarium, and collections of birds, herps, fish, skulls, mammals, insects, etc. at your disposal to work with. Successful interns will have an interest in natural history and enthusiasm for learning. 

Below is a list of the winter 2023 internships:

Herbarium Internship- learn about plants in the museum

Taxidermy Internship- learn about how to prepare specimens for the museum 

Bird-window Collision Internship- conduct research to help decrease bird-window collisions

Natural History Museum Management and Curation- learn the management and curation of the natural history museum

Museum Education and Outreach- conduct outreach and museum education on campus and in the community

After taking a look at the internship page and if you identify an internship that you are interested in for the winter quarter- send an email to gimhurta@ucsc.edu (first) along with a screenshot of your weekly schedule.

Contact: Chris Lay, cml@ucsc.edu, (831) 459-4763

The taxidermy intern will be crucial in helping add to, and maintain, our current collections. The intern will be trained in how to skin, dry, document and properly preserve bird, and possibly mammal, specimens over the course of the quarter. According to a detailed protocol, the intern will work to create scientific specimens from previously collected animals to add to the museum's collections.

---

Puma Project

---

Rachel Carson College Garden

Listing also found in the Agroecology and Plants tab.

Contact: c8garden@ucsc.edu

The Rachel Carson College Garden, a program within the Food Systems Working Group, provides 2 and 5 unit internship opportunities centered around basic garden care and stewardship--from seed to fruit. This internship will also focus on the intersections of society, green spaces and food justice through engaging with CRSN 90 and other hands on experience. Interested students will need to complete a casual interview before participating. Looking for students to intern for 2 quarters to develop experience with multiple seasons. Paid student staff positions will be available for students who previously committed to 2 quarters at the garden.

---

Site Stewardship

Contact: Bill Reid, billreid@ucsc.edu, (831)459-4680

The Site Stewardship Program organizes a team of interns and volunteers to take on ecological restoration and guardianship for sensitive natural areas within the UCSC campus. The program seeks to alleviate the impact that university growth is having on the landscape of the campus. The result of past natural resource extraction and university build-out has caused habitat destruction, invasion of non-native species, and soil erosion. Please visit their website for more information! 

---

Sprout Up

Listing also found on Environmental Education tab.

Contact: Kendall Post, kendall@sproutup.org

Sprout Up is a project of Environmental Volunteers founded in 2009 by undergraduates to instill a love for learning and an ethic of sustainability in our youth. Our environmental science & sustainability program links teams of college-student instructors with 1st and 2nd grade classrooms for weekly activities, experiments, and discussions that explore the relationship between humans and the natural world. We have also provided leadership development and training to over 3,500 college student volunteers. 

Sprout Up is excited to partner with motivated college students with a passion for equity and environmental change to work on creating new Sprout Up chapters at their colleges and universities. Through your work with Sprout Up you'll develop critical leadership, education, and environmental skills, make a difference in your community, and empower the next  generation of environmental stewards!

---

Stevenson Garden

Listing also found in the Agroecology and Plants tab. 

Contact: Anne Friewald, annefreiwald@ucsc.edu

The Stevenson Garden aims to create a safe space for all people to explore, grow, and learn as well as to educate our community about the role food systems play into sustainability, food justice, and nutrition. 

The role of the intern will have two parts: 1. to assist the garden crew in general maintenance of the garden on a weekly basis: attend weekly workday hours, do independent garden shifts.

2. to independently facilitate a garden project that a) enhances the garden and

b) educates community members on social justice and sustainability concepts; e.g. plant a strawberry bed & do a workshop on environmental justice issues in the strawberry industry.




 

---

Storm Water Management Program

Contact: Storm Water Manager cleanwater@ucsc.edu; (831)459-4520

Any students interested in environmental issues and would like to get involved on campus are encouraged to apply! Help UCSC manage the quality of campus storm water! Looking for: Writers, artists, web gurus, marketing specialists, photographers, students interested in environmental issues, & people able to network easily to work on storm water issues to enhance the overall campus environment!

Please visit their website for more information. 

---

Student Environmental Center

Contact: Liane Bauer, sec-group@ucsc.edu 

The Student Environmental Center (SEC) is a student-run, student lead activist  organization on campus dedicated to institutionalizing sustainability and environmental justice here at UCSC through projects and events that educate and empower students. Interning and working with the SEC is an excellent opportunity  to gain hands-on skills like leadership, facilitation, project planning, critical thinking, etc., which employers will be looking for after graduation. Interns will also be able to create meaningful and lasting change on campus all while learning  outside of the lecture hall and earning college credits! Expected duties for the fiscal interns include keeping track of all financial transactions, helping others navigate the fiscal suystem of UCSC, and ensuring funds are accessible for events. 

Contact: Liane Bauer, sec-group@ucsc.edu 

Expected duties of the Blueprint Organizer include coordinating events and projects, tracking finances for the blueprint budget, and being an advocate for environmental justice. 

Contact: Liane Bauer, sec-group@ucsc.edu

Expected duties of the personnel intern include handling logistics such as collecting documentation of time sheets and goals from students, sheduling meetings for large group discussions, evaluating peers and keeping track of deadlines, sending out reminders of peers for documents, communication with sister orgs such as ESLP and CSC, and planning quarterly retreats. 

Contact: Liane Bauer, sec-group@ucsc.edu

Expected duties of the media and outreach intern include advertising events and projects, working with outisde organizations to build coalition, and educating and empowering students through social media.  

---

UCSC Sustainability Office

Contact: Derek Martin, deemarti@ucsc.edu

The Sustainability Office is often looking for talented individuals with a passion for people and the environment to join one of our teams: Green Office Certification Program, Green Labs Certification Program, Carbon Neutrality Fellows, Student Sustainability Advisors, Fair Trade, Carbon Fund, or the Sustainability and Environmental Justice Ambassadors (SEJA). If you are interested in gaining professional experience in a fun and rewarding environment, view our current job openings on our website!

Offering paid positions in our student teams, which are listed in the description with the link to the hiring page which lists the positions we have open at any given time. 

 

---

Younger Lagoon Reserve Habitat Resoration Field Crew

Listing also found in Conservation tab.

This is located at the UCSC Coastal Campus

Contact:

Eric Medina 

eimedina@ucsc.edu

707-237-1245 (cell)

The UCSC Natural Reserves Office manages five natural reserves that are set aside for teaching, research and public education. We sponsor interns every quarter, including summer, to work at Younger Lagoon Reserve on our Habitat Restoration Field Crew.  Student interns work outside among herons, hawks, and coyotes and pull invasive weeds, collect native seeds, propagate and plant native seedlings, maintain existing restoration sites, cut back trails, and conduct ecological monitoring throughout the year.