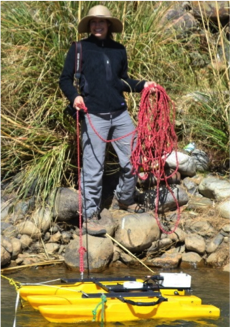 In July, ENVS students and faculty participated in an interdisciplinary field-based research and training program examining accelerating climate change and glacier recession in Peru. The program, funded by a National Science Foundation Coupled Natural and Human Systems Grant, and supervised by Associate Professor Jeffrey Bury, focused on experiential field training to enhance student climate science skills and broaden their understanding of climate change and its impacts in highly vulnerable societies like Peru. ENVS participants were joined by researchers and students from Ohio State University, McGill University, the University of Oregon, and the University of Texas-Austin.
During the three week expedition, the research team participated in challenging field expeditions at high elevations, climate change research methods workshops, environmental monitoring and data collection, and interviews with local populations.
Program activities took place across the Cordillera Blanca watershed at elevations ranging from 16,000 feet above sea level to the Pacific Coast. Research and training topics that were covered included human vulnerability and the local impacts of glacier recession, livelihood threats and adaptation, resource conflicts, glacial hazards, watershed assessment, hydrologic monitoring and end-member mixing models, interview and survey techniques, high altitude orienteering and survival, and field testing of novel GPS and GIS technologies. Travel highlights from the trip included dozens of kilometers of high elevation trekking, below freezing camping at the base of Peru's tallest peak (Nevado Huascaran-22,204 ft.), a spectacular descent through the Cañon del Pato by bus, a visit to the control room of an 80MW hydro-electric facility, and a guided tour through tens of thousands of hectares of new irrigated land along the coast by Peruvian authorities and engineers.
Students also participated in an international training symposium that was hosted by the Peruvian Ministry of the Environment and featured the results from hundreds of research projects evaluating climate change and rapidly retreating glaciers across the planet. Several thousand people attended the conference and both Adam French (Ph.D. Environmental Studies, 2013) and Jeffrey Bury gave public presentations.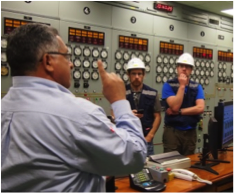 In her post-trip assessment, ENVS undergraduate student Anna Medina stated that "joining the Peruvian climate change study was incredibly insightful and was an unmatched learning experience" and that the experience taught her that integrated interdisciplinary field research "is the only way to accurately understand the complexity of climate change and make more informed decisions moving forward in climate change policy." ENVS undergraduate Camila Bobroff stated that her understanding of "the meticulous methods of 'doing science' has greatly increased through this experience" and that "the skills I learned on this trip far exceeded my expectations of how much I would be able to learn and experience given such a relatively short trip. These skills are undeniably some of the most valuable skills I have developed in my time at UCSC and will help me in pursuing higher education in climate change research."