ENVS Undergraduate Advising
Spring 2023 Advising & Events Calendar 
**You must click on a time block on the calendar to view details and location/ zoom link: 
 ----------------------------
Overview of Advising Services
Students can connect with ENVS undergrad advising in the following ways: 
Drop-in Advising
Email Advising
Appointments
Keep reading for details about each of these! If you're looking for other UCSC campus resources (academic support, wellness, and social opportunities) please browse this resource list our team has compiled. 


➡️ 

Drop-in Advising 
WHAT: Drop-in is effective for quick questions about enrollment, major declaration, or your academic plan. Students can expect 5-15 minutes per drop-in session.
WHO: Each drop-in session will be led by a different ENVS advisor or peer advisor -- see our bios below!
WHEN: Refer to calendar above for dates & times, zoom info, and other details for drop-in. All drop-in times are subject to change, and the calendar above will have the most updated information.
More information about attending during our drop-in hours:
Drop-in hours & zoom links can be found on the advising calendar above.
Zoom links for remote drop-in can be accessed on this google doc.
All drop-in is first-come, first-served. If drop-in is busy, there may be a bit of a wait.
Please have your student ID number ready! We recommend being logged into your student portal so that you can look up information if needed.  
➡️ 

Email Advising
Email advising is great for getting forms signed, asking quick questions, working on major declaration, and getting updates on your academic plan. Please email us at envsadvi@ucsc.edu. 
➡️ 

Appointments 
Here's how to schedule an appointment with ENVS advising:


Schedule appointments on Slug Success or the Navigate app

Log in to Slug Success, then select: Advising > Major/Minor Advising > Choose a Topic > Environmental Studies 

If you have difficulty, refer to our step-by-step instructions for how to schedule an appointment with ENVS
A confirmation email will be sent once your appointment is scheduled -- your zoom link will be included if it is a virtual appointment.

FAQs about appointments: See below for some Frequently Asked Questions!
How to prepare for your appointment:

Have your student ID number ready. We recommend being logged into your student portal so that you can look up information if needed.  

Cancelling your appointment:

We greatly appreciate students cancelling their appointments if they can't make it! This is considerate of our time, and allows us to meet with other students instead. If you can't figure out how to cancel, please email us at

envsadvi@ucsc.edu

.
 ----------------------------
Meet the ENVS Advising Team
Advising is one way to make the most of your university experience. We encourage you to utilize advising as much as you need. Ask questions, seek advice, and make decisions that work best for you.
Our office is staffed by Peer Advisors and the Undergraduate Department Advisor. Our Peer Advisors are ENVS majors trained to advise students in all things ENVS. They speak from their own experience, are super friendly, and are an excellent resource. Peer advisors offer drop-in advising and appointments. The Undergraduate Advisor also has appointment availability to discuss and clarify any ENVS program policy, signatures and approvals, and speak with students about any difficulties they are facing.
Please scroll up for information about how to connect with ENVS advising. We hope to speak with you soon!
Advising Office: ISB 4th Floor, room 405
Email:  ENVSAdvi@ucsc.edu


Meet the ENVS Peer Advisors! 
Hi everyone! My name is Skyla Atkinson and I'm a fourth-year environmental studies and biology major! I'm interested in all things conservation and wildlife and hope to pursue a career in that one day. Aside from school, I enjoy going to the beach and playing with my cat, Sage! I always love to hear from you guys, so please reach out with any questions :)
 -------------------------------------------------------------------------------------------------------------------------------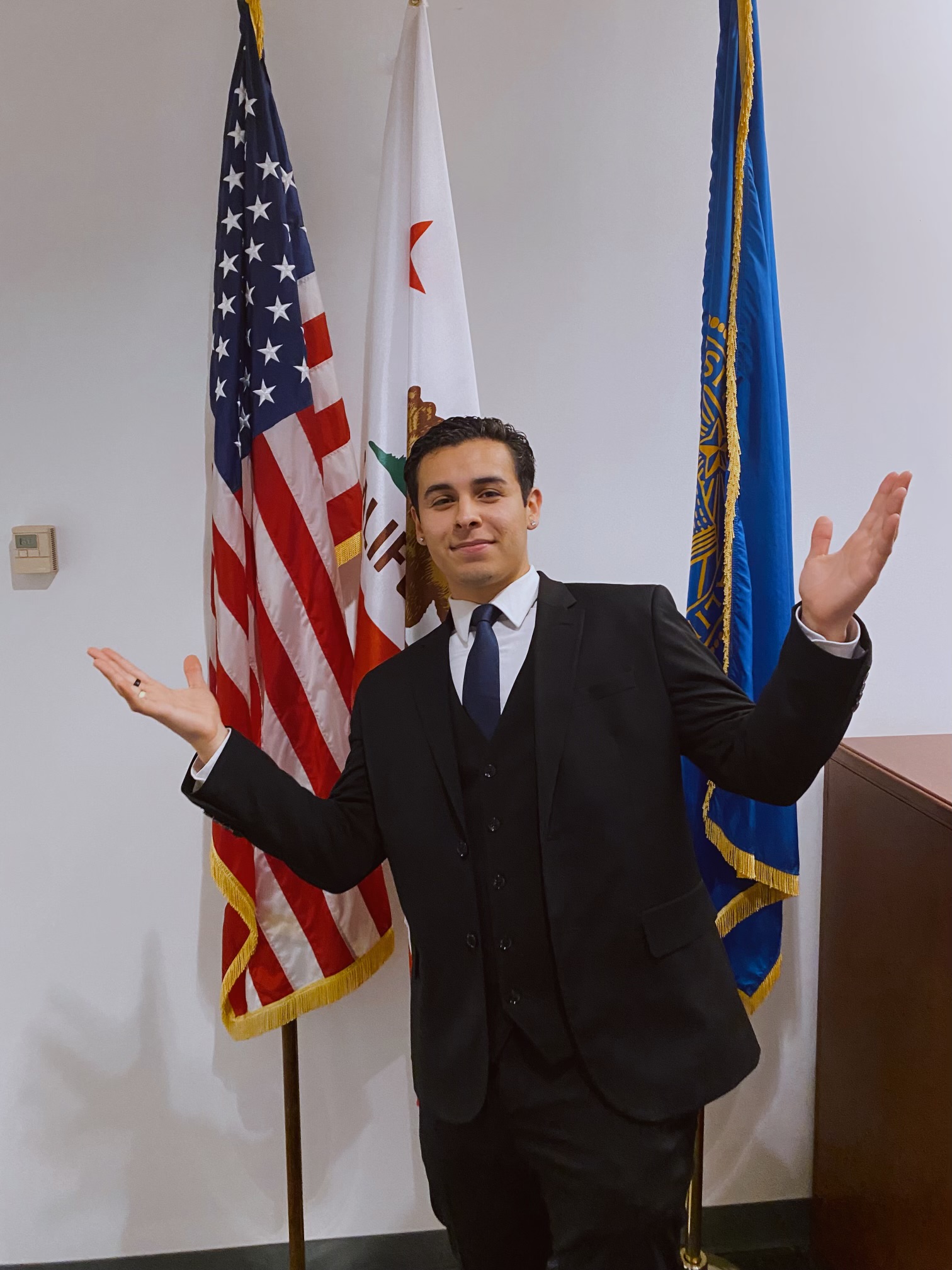 Hi y'all! I am a 4th-year ENVS and Legal Studies double major at UCSC.
I am passionate about public policy and national politics because I am passionate about climate justice.
I am very interested in pursuing a career that focuses on environmental law or some sort of social advocacy relating to the environment. I also participated in UCDC, where I interned for an environmental nonprofit.
 -------------------------------------------------------------------------------------------------------------------------------


Hi! My name is Emily and I'm a first year student with a proposed major in Environmental Studies with a concentration in GIS and a double major in Ecology and Evolution! I love all animals –especially my dog Haizel– and my dream is to work with exotic animals. Fun fact, I took care of a cow named Moo and a horse named Miles. I'd love to answer any questions that you may have!
Meet the ENVS Undergraduate Advisor!
Cassie Isaacson (she/her)
Hello ENVS community! As the undergraduate advisor in this department, my goal is to partner with students and help them navigate through their journeys at UCSC. No question is too small -- so don't hesitate to reach out anytime. I look forward to working with all of you! When I'm not advising, I enjoy taking walks, drinking coffee, cooking new recipes, and reading a good novel. 
 ----------------------------
FAQs about ENVS Advising
What is the Covid-19 protocol for ENVS advising?  
>>ENVS Advising is offering both in-person and remote meetings (and drop-in advising) at this time. Masks are encouraged for in-person meetings. We have extra masks in the office, so if you forget yours, feel free to ask and we can provide you with one!
How do I use Zoom?  
>> You can use a computer, tablet, or phone for Zoom advising; we just ask that you please be somewhere you can hear us and can talk out loud.  UCSC provides Zoom to all students, staff, and faculty for free. Instructions and login here: https://its.ucsc.edu/zoom/index.html
I need to get a form signed - how does that work?
>> Most forms are available online, fill it out electronically as best as you can or scan it, and email it to envsadvi@ucsc.edu. As always, form review can take up to a week. Please plan accordingly.
I scheduled an advising appointment - how will the meeting happen?
>> If you scheduled an in-person appointment, the room location will be in your confirmation email. If you scheduled a remote appointment, the zoom link will be in your confirmation email. Please reach out to us via email if you don't see a confirmation email or if you can't find the info you're looking for.  Note: For virtual appointments, the zoom link will bring you to the advisor's "waiting room" - they'll add you to their meeting room once they're finished talking with the person ahead of you. Thank you for your patience if there are any delays!
My internet connection is unreliable or I don't want to use Zoom - can I meet with advising on the phone instead?
>> You bet! You can still use zoom from your phone. Please email us at envsadvi@ucsc.edu or refer to this document for the phone number to call, the meeeting ID, etc. 
Who will I be meeting with at my appointment?
>> Appointments are offered by the undergrad advisor AND our amazing peer advisors -- see bios above! If you have a specific advisor or peer advisor you would like to meet with, feel free to email and we will work to make that happen if possible, but sometimes we are really booked up so you'll need to take whatever is available. 
What if I can't find an open appointment?
>> At some points in the quarter, appointments fill up quickly! Don't be discouraged. If your questions are time-sensitive and you can't find an open appointment, please email us to see if we can address your question more quickly via email. Remember that appointments are NOT necessary for getting forms signed. It's usually quicker and easier to email envsadvi@ucsc.edu with your form.
Are appointments in-person or zoom
>> We offer both! You can select your preferred modality on Slug Success.
I can't figure out how to schedule on Slug Success! Help? 
>> Please refer to these step-by-step instructions for making an appointment. If you are still having difficulty, feel free to email us with your availability (start by giving us at least three days and times that work for you) and we will help you schedule an appt.
 ---------------------------- 
Suggestions for ENVS Advising?
Let us know how we are doing! We welcome your suggestions about our advising services. What kinds of services do you want to see more of? Ideas for how we can better assist the ENVS undergrad population? 
Submit feedback and suggestions in our virtual suggestion box. 
---