Environmental Education Internships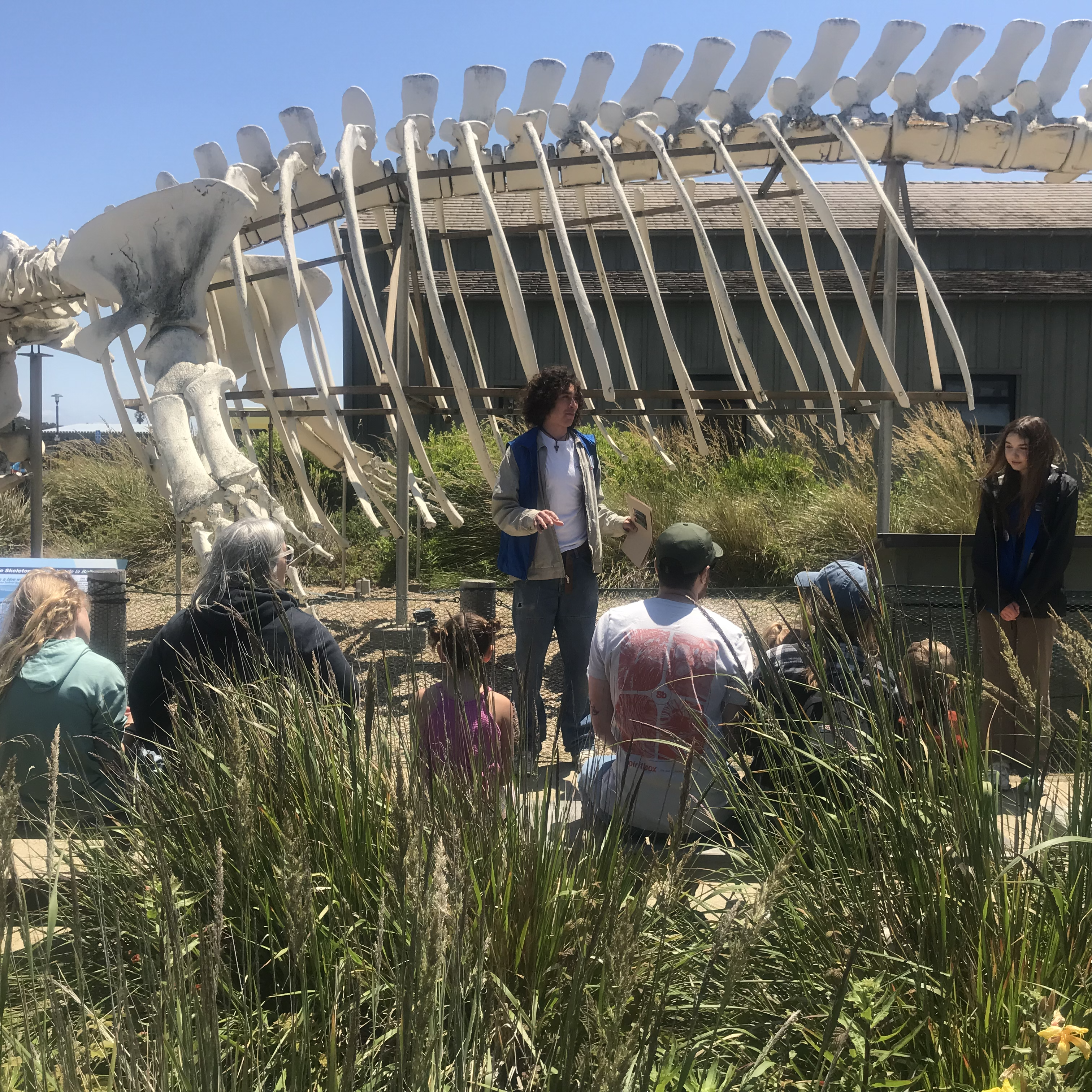 Wilderness Survival School with Adventure Out 
---

Adventure Sports Journal

Listing also found in Public Policy tab. 

Contact: Cathy Chesson, cathy@adventuresportsjournal.com

Adventure Sports Journal is California's original outdoor sports magazine, and it was founded right here in Santa Cruz. We cover all human powered sports and believe that getting people to enjoy nature through outdoor sports is a great way to create future environmental stewards. We are always in the need for help with data entry, web updates, working ASJ events, social media posts and video blogs are also needed. There are also opportunities to get published on our website and possibly in the pages of our magazine. Check out their website!

---

Beauregard Vineyards

Listing also found in the Agroecology and Plants tab. 

Contact: Ryan Beauregard, ryan@beauregardvineyards.com

Beauregard Vineyards is offering interns a chance to work on one of the regions premier vineyards: Bald Mountain Vineyard which is located in Bonny Doon very close to UCSC.  For winter projects, we are now pruning the grape vines.  Interns will assist with this project and will learn the basics of pruning and grape vine disease maintenance.  Projects will be: assistance with pruning, gopher management, owl box monitoring.  We are also amidst a partial repant of the vineyard so interns will assist in removal of old vine trellising.  This job requires that the interns are able bodied because this is a physical farming job.  There will be no work when it is raining.  At Beauregard Vineyards, wine is made in the vineyard.  We look forward to sharing our passion for the Santa Cruz Mountains.

---

Big Basin State Park

Contact: Krystal Zamora and Will Klair, (707) 759.5297, kzamora@basecampmail.com 

Basecamp Hospitality is a privately owned, award-winning park, resort, retail and event management company with operations in California, Arizona, Oregon, Utah, and Wyoming. Since 1975, Basecamp Hospitality has been providing our superior level of service and commitment as concessioners to our government partners in local, state and national agencies. At Big Basin State Park, our intern will help us achieve our Zero Waste Initiative for the Big Basin Café by creating a 5-year Waste Management Plan. Our intern will also have the opportunity to share their passion for the great outdoors with our guests through environmental education and the development of interpretive materials. The ideal intern will have particular interests in Corporate Social Responsibility models and sustainable supply chain management.

---

Bird School Project

Contact: Jessica Correa email: jess@birdschoolproject.org 

Did you ever have an awesome outdoor experience that got you hooked on nature? Are you an excited naturalist willing to share your expertise with the next generation? Have you ever thought of getting into science education? The Bird School Project is an exciting outdoor education program focused on birdwatching in schoolyards throughout Santa Cruz County. We help students investigate the wild birds that live right outside their classroom door using binoculars and field guides. Birds are everywhere and we believe that you don't have to travel far to develop a formative connection with nature! Interning with the Bird School Project is a great opportunity to get to experience teaching environmental education. Currently, we are seeking passionate educators who can help facilitate eye-openingexperiences for middle school students during the following times: Monday-Friday Time: Anytime between 8am-4pm.

---

Calabasas Garden - affiliated with C9/10

Listing also found in the Agroecology and Plants tab

Contact: Flora Lu, floralu@ucsc.edu & Michelle Hernandez, mherna81@ucsc.edu

Only offered in Fall and Spring

This internship affiliated with College 9/10 seeks UCSC students who want the opportunity to work with youth, facilitate agroecological knowledge acquisition, promote locally grown, healthy food, and raise awareness of social and environmental justice issues. Interns will travel to Calabasas Elementary once or twice a week (transportation provided or gas money reimbursed) to undertake the after-school program, helping to design and implement environmental, garden-based curricula with children ranging from first graders to sixth graders. Interns will also assist with the upkeep of the Discovery Garden: weeding, planting, watering, pruning, etc.

---

California Marine Sanctuary Foundation

Listing also found in the Water and Marine-Related tab. 

Contact: CMSF@CaliforniaMSF.org 

The California Marine Sanctuary Foundation is excited to announce openings for internship positions. We're seeking applicants with an interest in ocean education and outreach with an emphasis on generating greater awareness of and support for California's marine protected  areas. Ideal candidates will be self;motivated and will work closely, but independently, with Sanctuary Foundation staff on one or more projects. Applications will be considered from currently enrolled undergraduate students as well as
students who have recently graduated from an undergraduate program. While this position is unpaid, our Foundation maintains close collaborations with several organizations throughout California who often seek highly qualified job applicants. Upon successful completion of this program, we will be glad to point you towards potential employers and write letters of recommendatioon your behalf.

---

Compost Research & Education Foundation

Contact: Kelsea Jacobsen, kelseajacobsen@compostfoundation.org

 

The Compost Research & Education Foundation (CREF) works to enhance the composting industry by supporting scientific research, increasing awareness, and educating practitioners and the public to advance environmentally and economically sustainable organics recycling. Key to our mission are education programs, which provide comprehensive information to professionals across multiple industries about the value of composting as a sustainable practice. Our flagship program is the Compost Operations Training Course (COTC), a 5-day program covering all aspects of composting as a business, including best management practices for environmentally-sound composting, compost applications, safety, marketing, and much more. We also present webinars on an array of topics with a heavy focus on research, covering topics such as testing composts for persistent herbicide contamination and the benefits of compost application in cultivating drought-resistant soils. The organization is in a phase of growth and seeking to expand our programs.

Website: compostfoundation.org

 

This internship will be FULLY REMOTE with flexible hours, and supervised by a UCSC graduate with 4 quarters of ENVS internship experience. Based on the intern's goals, abilities, and hours needed, responsibilities may include some or all of the following, and students are welcome to suggest additional ways their skills might further our mission:

- Review of historic documents and compilation of comprehensive databases (spreadsheets) that aid in coordinating the COTC. The intern is encouraged to brainstorm with the Project Manager on opportunities to improve the program.
- Administrative and logistics support for education programs including the COTC and webinars
- Outreach to state regulatory agencies to aid in developing education programs that meet state training requirements for compost facility staff

- Participation in CREF committee meetings, including our Education Committee and Diversity, Equity, Inclusion, & Access Committees, as the intern's schedule allows

This is an excellent opportunity for students interested in environmental non-profit work to understand how these organizations function. Throughout the duration of the internship, the student will gain an understanding of the biological processes that drive decomposition and the environmental benefits of composting for sustainable waste management, soil regeneration, and carbon sequestration.

Prerequisites:

2-Unit and 5-Unit interns welcomed.

Success in this internship will require basic knowledge of Google Suite programs (Docs, Sheets, Slides) and email. Due to the remote nature of this internship, the student will also need to be self-motivated and proactive about asking questions and clarifying their understanding when taking on assignments.

Additional background knowledge that is helpful, but not necessary, include composting experience and basic understanding of sustainable agricultural and climate change mitigation.
Prior completion of courses including ENVS 80B, ENVS 130A/B/C, ENVS 133, ENVS 161A, ENVS 169, and ENVS 170 would all serve as excellent primers.

---

Coastal Watershed Council

Listing also found in Water and Marine Related tab

Contact: Mollie Behn, mbehn@coastal-watershed.org

The Coastal Watershed Council works in public elementary, middle and high schools throughout Santa Cruz County to involve teachers and students in sustainability education. Education Program Interns will support the Education Coordinator in developing and teaching lessons to K-12 students about 1) watersheds 2) human activity impacting the health of our watersheds such as stormwater runoff, trash disposal, pollution, among other 3) water quality monitoring 4) sources of water and water conservation 5) sustainable practices such as reducing/reusing/recycling/repairing and composting and 6) climate change. Training and support are offered on the lessons and activities, working with students, group management and teaching techniques. There is both school/field time and office time for this internship.

---

Ecology Action

Contact Person: Erin Devitt, volunteer@ecoact.org, 513-833-1454


Ecology Action is a Santa Cruz based non-profit who has been a leader for over 40 years in empowering individuals, businesses, and communities to take actions today that achieve environmental and economic sustainability. Ecology Action's Bike Programs team runs numerous well-known community programs including Bike To Work, which is one of Santa Cruz County's largest environmental events with over 10,000 participants. We are currently looking for enthusiastic and dedicated individuals to join our fun and dynamic team!

We are looking for dedicated individuals who are interested in assisting with event coordination and community outreach. We have a number of opportunities and ways for you to plug-in to our programs depending on your interests (youth focus, community outreach focus, research, etc). Check out our website to learn more about the programs that we provide. If you have an interest in working on programs that have a positive impact in the community and provide solutions to some of the more pressing environmental issues of our time, including climate change, than Ecology Action's Bike Programs Internship is the right fit for you.

Contact Person: Erin Devitt, volunteer@ecoact.org, 513-833-1454

Ecology Action is an award-winning non-profit organization that provides innovative solutions to climate and natural resource challenges of cities, governments, and utilities across California. We know that when individuals and businesses make simple changes in their behavior, they drive large scale changes that benefit people and the planet. This translates into reduced carbon emissions, stronger businesses, healthier communities and a sustainable future for all. Together, we help people, businesses and communities act now.

Ecology Action's Community Programs team is looking for an Events Support Intern to work closely with the Events Specialist to help execute events.

 

 

Contact: Tawn Kennedy, tawn.kennedy@ecoact.org (831) 428-5109

Bike Smart! Youth Bicycle Safety Program conducts bicycle safety trainings for Santa Cruz and Monterey County youth. We offer classroom Presentations, hands on bicycle skills Obstacle Courses (aka "Rodeos") and Community Rides (on street training), as well as bicycle safety Education Outreach Booths. Our programs are carried out at schools, community centers and events. Bike Smart! is a Safe Routes to School program of Ecology Action, a local non-profit dedicated to promoting and providing sustainable transportation services to Santa Cruz County residents and businesses. Its other programs include: Bike to Work/School, Bike Week, Active4Me, Walk Smart and Zero Interest Bike Loan Program.

Check out the website. 

---

Education for Sustainable Living Program

Listing also found in Campus tab

The Education for Sustainable Living Program (ESLP) is a student-led organization committed to empowering students to take action in the climate crisis. Our program creates collaborative learning environments through UCSC-accredited courses for students of all backgrounds to learn the skills needed to transition toward a society that prioritizes the planet and its people. ESLP works to foster co-intentional learning between students, while creating a culture where students can take action. We are seeking organizers to join us in creating environmental education opportunities for fellow students on campus.

As an organizer with ESLP, you will contribute to the development of the two ESLP student-led courses in the winter and spring. You will have the opportunity to plan and design these courses as part of the ESLP team, and gain important skills and knowledge of facilitation, communication, coordination with guest speakers from around the globe, designing a curriculum, collaborating with other organizations, and more.

Interning with ESLP is a yearlong commitment, as the work completed during each quarter actively contributes to the end result of ESLP's environmental education courses. Please check out eslp-enviroslug.org for more information, and reach out to eslp@ucsc.edu with any questions or to meet with a current organizer.

---

Environmental Innovations (EI)

We are hoping to get an intern this Fall quarter to support our outreach efforts. We ask for a 3 quarter commitment, the first quarter is a trial period with a $500 stipend and then if it works well we move them to hourly part time employee status. Key responsibilities include organizing meetings and other events, providing sustainability technical assistance to businesses, customer service and sales within the business community, data analysis and reporting, and social media and marketing. Spanish speaking is a strong consideration for this position. If you are, looking for more information, then please look here or here!

---

Environteers

Listing also found in Public Policy tab and Summer tabs.

Contact: Andrew Carman info@environteers.org Cell: (831-332-0523)

Are you excited about promoting environmental awareness and action? Are you eager to learn how to inspire participation in environmental protection? Environteers.org needs interns to connect the UCSC community to opportunities to engage in environmental activities. Our free resource, the Environteers Weekly Update, empowers participation by publicizing the environmental education and volunteer activities of all Santa Cruz.
County organizations, as well as state and national groups. Interns are needed with strong interests in leveraging social and news media on campus and identifying other avenues for inviting students, faculty, and staff to utilize our resources.

The Environteers.org website and Weekly Update e-newsletter are dedicated to making it easy to stay informed of environmental issues and to quickly and easily take action. We publicize the educational and volunteer activities of all of 100+ Santa Cruz County environmental entities as well as those of several state
and national groups. The Update is the most useful and engaging environmental newsletter for our County. The Update always has beautiful photos, fascinating & informative articles, compelling action items, and good news, and it's free! It is a powerful resource for all who are committed to being informed and in action protecting and restoring our environment. There are currently over 1100 subscribers in the county. The role of the intern is to connect the UCSC campus community to opportunities to engage in environmental activities by using the Environteers Weekly Update. You will not be asking your community for any money or time
commitment. Rather you are offering a free and convenient resource for helping fulfill their need to make a difference. We need interns who are: passionate about promoting engagement in environmental action, self-motivating, and effective communicators.

The specific tasks include:
1. Develop social media presence on campus
2. Working with campus media (radio, newspaper) to publicize
Environteers
3. Contacting instructors & professors of ES & other sciences to
create opportunities to inform their students
4. Working with the campus organizations, e.g., the Sustainability
Office, to utilize their communication channels.

---

Farm Discovery at Live EarthFarm

Listing also found in Agroecology and Plants tab.

Contact: Hayley Reitman, Education Coordinator; education@farmdiscovery.org

Farm Discovery at Live Earth is a nonprofit organization working in to empower youth and families in the Pajaro Valley community to build and sustain healthy food, farming, social and natural systems. Our home, Live Earth Farm, is a 150-acre patchwork of working organic farm, riparian corridor, oak and redwood forest. Farm Discovery offers educational programs that inspire youth and families to transform their relationship to food, farming and nature.

We are looking for interns that can help engage children and lead them in our curriculum during farm experiences. During the Spring and Fall, we host a variety of educational programs approximately 3x a week, with grades kindergarten-5th. Interns must be available in the morning. If interested in agroecology, fieldwork is available in addition to becoming an educational farm docent.

All interns must be reliable for the duration of the quarter and have transportation, as we are located remotely!

---

Global Environmental Justice Journal

Listing also found in the Environmental Justice tab.

Contact: globalej@ucsc.edu & (831) 459 - 4158

This internship seeks 5-10 editiors to help produce a peer reviewed global environmental justice journal. Responsibilities include reviewing and editing student papers, commisioning book reviews, and collecting global environmental news to assemble into a cohesive journal.

---

IDEASS-DROPS

Contact: Tamara Ball, tball@ucsc.edu 831-459-2138 (office)DROPS at Bay View Elementary: A

Project-based internships including:

Drought Response Outreach Program
Get Involved: Students interested in hydrology, urban planning, policy, education or film will learn how DROPS is pushing the envelope on decentralized water management. Implement rainwater catchment systems, stormwater mitigation and groundwater recharge (e.g. bioswales) at Bay View Elementary. Priorities for the project include native plant propagation, piloting original Life Lab curriculum, monitoring on and off-site impacts, installing an irrigation system, producing material for an original feature film and showcasing the project at community events.


2018-2019 Highlights!!

Work directly with local experts and professionals (architects, city staff, and mechanical engineers)

Redesign blueprints for a new Bay View elementary Life Lab space to accommodate two rainwater tanks a greenhouse and irrigation system and garden beds

Develop and test a hands on curriculum to feature system components aligned with Next Generation Science Stands and inspired by Life Lab pedaology.

Install rainwater catchment systems and LID landscape features (rain gardens, bioswales) to mitigate the impacts of stormwater runoff

Sample stormwater runoff and partner with staff at the water treatment plant to perform lab tests to monitor toxicity and pollution

And many more!

 

---

Kids in Nature

Contact: Elise Scheuermann, scforestkids@gmail.com

The Kids in Nature Internship, based out of Westlake Elementary School, is an after school program which fosters student appreciation of the outdoors. The programs focus on bringing art, natural history, ethnobotany, emotional literacy, and environmental advocacy to the local youth.

 

Expected responsibilities include leading outdoor adventures, teaching lessons about plants, and creating an exciting learning environment for the next generation of nature stewards. There are

 openings for 2-unit or 5-unit interns. The schedule follows the school year calendar and the program runs from 12:15-5pm Monday-Thursday and 2:15-5pm Monday-Friday.

For more information visit their 

website!

---

Kindred Herbs

Listing also found under Agroecology

Contact: Cameron Salomon, kindredherbs@gmail.com 

Kindred Herbs is a speciality medicinal plant nursery growing herbs from around the world. The nursery produces herb starts and plants to sell direct to customers. In the Spring, Summer, and Fall seasons, an intern will help seed and transplant herbs, label plants, water and fertilize, do some light construction, help maintain the nursery site. The intern(s) may also have the option to help develop materia medica, which is literature material about herbs including it's botanical description, growth habit, growing conditions, and medicinal use.

---

Land of Medicine Buddha

Also under the Agroecology and Plants and Conservation tabs

Contact: Dominic "Buzz" Renda buzz@medicinebuddha.org 

Land of Medicine Buddha (LMB), a center for healing and developing a good heart, is an active Buddhist community, a local registered non-profit, an environmental conscious meditation and retreat center located on 108 acres of coastal redwood foothills in Soquel. Our mission, values, teachings and practices devoted to increasing the wellbeing for all. We offer a wide range of secular and non-secular offerings including teaching, meditation, retreat and community.

4 2 or 5 unit internships are available. Internship participants will be instrumental in planning, developing and actualizing 1 of 2 priority LMB projects; Regenerative Garden and Nature Walk. 

For more information please visit our website!

---

Life Lab

Listing also found in Campus Internships tab.

Contact: Cara-Alexandra Sundell, cara@lifelab.org

Internships with Life Lab at the Blooming Classroom Garden and Amesti School! 

Come enjoy the season in the garden and get school credit.

Interns receive training in: Garden-based science education, working with children in an outdoor setting, organic gardening, garden development projects, environmental education, games, activities, and much more!

Interns teach and work on garden projects all quarter.
2 credits are available through the Environmental Studies Dept.

Learn more about the Garden Classroom at the UCSC farm

here

. 

For information, sessions look at the schedule

here

. 

Contact person: Jeanée Natov, jnatov@sccs.net 

Bay View Elementary School has a school-wide Life Lab/Garden Science Program. In the garden, students learn garden science and nutrition. Over the school year, students will experience all aspects of gardening including sowing seeds, planting, harvesting, and composting. Students learn about soil, nutrient cycling, life cycles, photosynthesis and other science standards. Our goal is to spark an interest in gardening, science, and healthy food through fun, hands-on activities. The Bay View Life Lab internship involves maintaining the school garden and assisting with garden-based science classes for students grades K-5. We are looking for 2-3 interns to help maintain the school garden, initiate garden projects and assist with outdoor education. We work around the schedule of the elementary school, so the days and times of Life Lab will be Monday through Friday, ending by 4:00pm.

Contact: Kate Grell, kategrell@gmail.com 

The Intern(s) works in the Happy Valley Elementary School garden during school hours (2 days/week, 3 hours each = 6 hours/week, ideally Wednesdays 11am-2pm and Friday 12-3pm but flexible)

Intern will help maintain garden through watering, weeding, planting, mulching. Student will help with school Life Lab program – managing compost and helping students collect data. Intern will be available in the garden during student recess periods to work with the elementary students on art and planting projects.

Contact: Cara, cara@lifelab.org, (831)459-4035

Come enjoy harvest season in the garden, and get school credit. Interns teach garden-based science and sustainable agriculture concepts to local school groups, 2nd through 5th grade. Interns receive training in: Garden-based science education, working with children in an outdoor setting, organic gardening, environmental education, games, activities, and much more! Tuesday afternoons, 1:30 pm to 6pm OR Fridays during the school day, 8:30am to 2pm.
Interns meet at the Life Lab Garden, on the UCSC campus, and carpool down to the Blooming Classroom. 

Steps to Intern with Us!
1. Get the paperwork to sign up for credit --  Most interns get credit through ENVS. Stop by the Env Studies Internship Office (491 Interdisciplinary Sciences Building, UCSC; Chris Krohn, Internship Coordinator; (831) 459-2104 to get the paperwork and find out what you need to do to register for the internship.  (You are also welcome to do this internship for no credit and volunteer). 
2. Once you have your paperwork, make an appointment with the contact listed for your internship of interest. - We'll sign your paperwork and ask you to fill out an info form for us. Please do make an appointment first to make sure we'll be at our office. Find us here.  
3. Training - Training starts the first week of classes, on your regular day.

Learn more about the Blooming classroom internship in Watsonville here. 

For information sessions look at the shecule here. 

2-unit & 5-unit internships available - Transportation provided from UCSC Farm - Seeking Spanish speakers. Work in School Gardens in Watsonville! Gain gardening skills, learn how to install vegetable garden irrigation systems, create interpretive displays, and work with kids in school gardens. 
Available spots on Wednesday 9:30-2:00.
For information and to apply, go to http://www.lifelab.org/classroom/pajaro/school-garden-crew/

Steps to Intern with Us!
1. Get the paperwork to sign up for credit --  Most interns get credit through ENVS. Stop by the Env Studies Internship Office (491 Interdisciplinary Sciences Building, UCSC; Chris Krohn, Internship Coordinator; (831) 459-2104 to get the paperwork and find out what you need to do to register for the internship.  (You are also welcome to do this internship for no credit and volunteer). 
2. Once you have your paperwork, make an appointment with the contact listed for your internship of interest. - We'll sign your paperwork and ask you to fill out an info form for us. Please do make an appointment first to make sure we'll be at our office. Find us here.  
3. Training - Training starts the first week of classes, on your regular day.

The Delaveaga Life Lab internship involves maintaining the school garden and assisting with garden-based science classes for students grades K-5. An intern can choose to focus his/her time on outdoor education, garden projects, or

both. We work around the schedule of the elementary school, so the days and times of Life Lab will be Monday through Friday, between the hours of 8:00am - 3:00pm. The internship times are flexible as long as the intern completes his/

her hours. This is an excellent opportunity for anyone interested in outdoor education and/or sustainable agriculture. Interns will have the opportunity to learn effective teaching techniques for an outdoor classroom and gain experience developing a sustainable school vegetable garden.

Contact:  Erica Schroeder, erica.schredder@gmail.com (831)429-3856  

The Life Lab Program at Gault School is a K-5 hands-on science and nutrition program held outdoors in the school garden. All students visit the garden throughout the school year.  Garden includes a greenhouse, greywater recycling, outdoor kitchen, solar ovens, native plants and a pond. 

- Interns needed -
Mondays 8:30 – 2:45 p.m.
Tuesdays 8:30 – 2:45 p.m.
Thursdays 8:30 – 2:45 p.m.

Contact: Caryn Lane, caryn_lane@pvusd.net

The intern will gain experience working with teaches and classes from grades K-6 to teach basic gardening skills. The school garden intern will provide opportunies to teach students about where theur food comes from in a variety of ways including composting, seed saving, and mantaining the garden. The process of gardening will help students to have a deeper understanding of the environment and promote healthy eating in a school setting.

Please check out our website here and the internship description here!

---

Monterey Bay National Marine Sanctuary Exploration Center

Listing also found in the Water and Marine-Related tab. 

Contact: Becky Gustafson, explorationcenter@noaa.gov

The Monterey Bay National Marine Sanctuary is looking for a weekly
intern who will assist in the coordination and delivery of our Preschool
Storytime program. Duties will include:

Assist in the coordination of a weekly preschool activity time for the
Sanctuary Exploration Center
Help setup and lead weekly crafts, including program advertising
Work in the gift shop and front desk when needed, and assist with
public events

 

Exhibit Interpreter Internship

Contact: Becky Gustafson, explorationcenter@noaa.gov

Join to be a docent at the Sanctuary Exploration Center

Attend our docent training Tuesday evenings from April 11 through May 23. 

Monterey Bay National Marine Sanctuary is part of the National Oceanic and Atmospheric Administration.
The Sanctuary Exploration Center in Santa Cruz is a visitor center that educates the public about
our sanctuary. Interns will be trained as Docents who welcome visitors and interpret our exhibits to them.
Interns will also assist with exhibit pop-ups and work with the Volunteer Coordinator to improve current exhibits to engage visitors better.

Skills include An interest in the natural world, teaching, and environmental enthusiasm. Enjoy interacting with the public and being a proactive, dependable, and responsible team member. A background in ocean science, marine biology, or environmental science is preferred but not required. You must be willing to spend the effort
necessary to learn the appropriate material. Internship requirements: Attend docent training. Work one 3.25-hour shift a week after training. Shifts are 9:45 a.m.– 1:00 p.m. or 12:45 p.m. – 4:00 p.m. Wednesday – Sunday.

Our requirements for docents are to work a minimum of twice a month, up to once a week for a 3.25-hour shift where they welcome visitors, interpret exhibits, and engage visitors in ocean conservation and education. Volunteers also receive enrichments throughout the year, which include science talks and field trips.

Contact: Becky Gustafson, explorationcenter@noaa.gov

The Monterey Bay National Marine Sanctuary is looking for a weekly
intern who will assist with our Field Trip programs. Duties will include:

Assist in the setup and tear-down of field trip activities
Help with general crowd control and supervision of students
Work in the gift shop and front desk when needed

---

Natural Bridges State Beach

Contact: Martha Nitzberg, martha.nitzberg@parks.ca.gov (831) 423-4609 ext. 8


Have you ever imagined yourself as an environmental educator? In such a role, you can become a bridge between people and place and a facilitator of connective experiences in nature. At Natural Bridges we have a Fall internship that offers training in environmental interpretation and environmental education. In particular, you will learn to lead morning school group tours of the monarch butterfly preserve. Your help is also much appreciated in running our Welcome Back Monarchs Festival in mid-October. We look forward to meeting you!

---

Norris Center for Natural History

Listing can also be found in the Campus tab.

The Norris Center welcomes students who are interested in natural history and want to get hands-on experience with a natural history collection in a meaningful way. 2-unit and 5-unit internships are available to students interested in creating their own projects or continuing long term projects. Past projects have included taxidermy, creation of exhibits, cataloging various collections, creating online natural history resources, teaching classes, leading hikes for campus groups, and writing natural history based books/curriculum. We have a diverse collection including an herbarium, and collections of birds, herps, fish, skulls, mammals, insects, etc. at your disposal to work with. Successful interns will have an interest in natural history and enthusiasm for learning. 

Below is a list of the winter 2023 internships:

Herbarium Internship- learn about plants in the museum

Taxidermy Internship- learn about how to prepare specimens for the museum 

Bird-window Collision Internship- conduct research to help decrease bird-window collisions

Natural History Museum Management and Curation- learn the management and curation of the natural history museum

Museum Education and Outreach- conduct outreach and museum education on campus and in the community

After taking a look at the internship page and if you identify an internship that you are interested in for the winter quarter- send an email to gimhurta@ucsc.edu (first) along with a screenshot of your weekly schedule.

 

---

Novasutras

Contact: Michelle Merrill, novasutras@gmail.com  360-270-5681

The Novasutras community has a culture of inclusion and respect for all. This means that your ideas and opinions will be invited, valued, and validated -- we hope to learn from you while you learn from us. As part of our team, you will have free access to all Novasutras events. We are eager to work with you to grow your social network and nourish your intentions for personal development in ways that are mutually beneficial. As a member of our outreach and event planning team, your tasks will likely include:

 Communication and correspondence with allied organizations and potential guest presenters 
 Creating compelling event descriptions, images and other promotional materials
 Listing events on online calendars, webpages, and email announcements
 Promoting events on social media and other channels
 Coordinating schedules
 Assisting with online event hosting

---

Ocean Seed Project

Oceanseed Project is a science-based, results-oriented, environmental non-profit providing access, insight, inspiration, developmental empowerment and new possibilities to at-risk youth. Oceanseed Project transforms our natural world by providing vulnerable children access to the oceans, beaches, estuaries and watersheds accompanied with mentorship and a student-centered curriculum in the humanities and sciences that compliment Common Core education standards. In establishing their direct connection with nature, our children discover a world of new possibilities; forever improving the trajectory of their lives and that of our world. An Oceanseed Project internship provides participant student team members with the opportunity for direct hands on access, experience and professional business education in environmental entrepreneurism, conservation and education including; federal and state regulations, finance, marketing, programs, operations and field work. Oceanseed Project interns are provided guidance and supervision in strategic areas in support of our mission, yet given the freedom and encouragement to truly make it their own. 

---

Pie Ranch

Listing also found in Agroecology and Plants tab

Contact: Pamela Nell, programs@pieranch.org

Pie Ranch is an educational farm. We work to change our local and regional food system, to make it more just, by providing farmer training (we have 9 month, live-on, farm apprenticeship), Youth empowerment/education (we host day field trips with culinary and farm activities and tour (all-ages), week-long trips and summer paid internships with our partner high schools: Mission High, Oceana High, Pescadero Schools and Castlemont High). Offering spring, summer, and fall internships.

---

RIEKES Center for Human Enhancement

Contact:  Jeremy Hartje, nature@riekes.org 

650-364-2509  Fax: 650-261-6006

We have a weekly kids nature awareness program for homeschool kids that runs from September thru May. Kids meet weekly at the UCSC Arboretum from 9 am to 3 pm with staff meeting 8:30 am to 3:30pm. We are looking for interns to assist with our mentoring programs on a weekly basis. We are looking for interns who are highly inspired to work with youth in nature and have an interest in furthering their own journey in connecting with nature. Interns must also be comfortable being in nature in all types of weather (we go out with kids rain or shine). We will mentor the interns in the following core routines of nature awareness: hazards, games, journaling, tracking, sit spot, wandering, ecological indicators, songs, sensory awareness, survival skills, and bird language. For more information visit their website....

---

Roots & Routes Intercultural Collaborations

Listing also found in the Conservation and Environmental Justice tab.

Contact: Juli Hazlewood, juli@rootsroutes.org 

Roots & Routes IC's (Roots & Routes, R&R) mission is to facilitate sharing knowledge and compassion between diverse cultures en route to responsibly stewarding a flourishing living world. We are a network linking community-based Indigenous and Ancestral peoples' environmental educational initiatives t

hat teaches the world that we are worth more than the resources below our feet.

We offer a remote internship program with youth from all over the world. The Youth Visionary Collective (YVC) contributes to environmental and social consciousness by offering the opportunity to hone professional and life skills, to learn how to strategize and grow an international and community-based NGO, and to join a community of like-minded youth across the world dedicated to environmental justice, Indigenous and ethnic self-determination, sovereignty, and decolonizing knowledge. 




We have six teams: the Social Media Team, who create

 

Instagram content; the Podcast Team who are creating our new podcast; the Blog & Newsletter Team who write

 

blogs

 

and our newsletter; the Pluriversity team who strategize and build our educational platform; the Steering Committee who coordinate and facilitate the YVC; and the Spanish-speaking Rights of Nature team who create content for the

 

Spanish Instagram account.


The program is divided into four seasons per year, of around 10 weeks per season. Each season includes an orientation where new interns learn about Roots & Routes and the teams, and get started on the projects. During the next 10 weeks there will be weekly 1-2 hour meetings on Zoom with bi-weekly guest teachers, ranging from Indigenous leaders to scholar-activists. You will also meet weekly within the teams and spend a minimum of 6 hours per week on your projects.

---

Santa Cruz County Office of Education's Environmental Literacy for All Initiative

Listing can also be found under Environmental Justice 

Contact: Amity Sandage, asandage@santacruzcoe.org 

The County Office of Education leads a robust environmental literacy initiative that offers multiple pathways for UC interns.

The COE supports a unique countywide high school leadership group: Youth for Environmental Action (YEA). The goals of this program are to increase student voice and agency, and to support environmental action and civic engagement of high school students around environmental sustainability and environmental justice issues they identify as important to them. UCSC interns will play an important role in identifying potential resources and community partners for the program; mentoring student leaders as they plan events and projects–including a countywide student-led environmental action summit; and documenting, promoting and evaluating the program's impacts.

This initiative also includes opportunities for interns to support the Teacher Leadership Institute for Sustainability, a teacher training program which aims to increase TK-12th grade teacher capacity for integrating environmental sustainability with classroom curriculum and leading students in sustainability efforts at school and in their communities. Teachers and their students who complete the program will receive recognition for taking part in the countywide "Every Classroom a Green Classroom" challenge. This green classroom recognition program will challenge teachers and students to make a commitment to sustainable practices as a learning community and apply their classroom knowledge and skills to impact an environmental issue on their campus or in their community. Interns will assist in preparations for workshops and events for this group, gather and disseminate resources to teachers and environmental education partners, and assist with ongoing communication among the group. 

Lastly, the COE is developing an internal "green workspace" recognition program for staff and integrating green business practices within its staff wellness initiative to promote the health of both people and planet. Interns can be a part of the pilot process of this green workspace program.

---

Santa Cruz Museum of Natural History

Contact: volunteer@santacruzmuseum.org (831)420-6115 #13

Founded over 100 years ago, the Santa Cruz Museum of Natural History is rooted in understanding and sharing a fascination of the natural world. Today, education remains at the core of the Museum's mission: to connect people to nature. All of the Museum's educational programs are designed to foster understanding and appreciation of Santa Cruz's rich natural and cultural history. Each year, the Museum provides quality school programming to thousands of youth. With its vast collection of local artifacts and
one of a kind exhibits, the Museum offers unique learning opportunities for students to delve into natural and cultural history topics in ways they cannot in their classrooms.

TO APPLY: Please read the Education Program and/or Collections Management internship description and complete the Internship Application. Send any questions to volunteer@santacruzmuseum.org or (831)420-6115, #13. Visit the School Programs page on our website for more information about the Museum's education programs.

---

Seymour Marine Discovery Center

Listing also found in the Water & Marine-Related tab. 

Contact: Volunteer Coordinator, volunteers@ucsc.edu



The Seymour Marine Discovery Center is dedicated to educating people about the role scientific research plays in understanding and conserving our world's oceans. Volunteer Teaching & Project Interns become part of our outstanding and inspiring team of School Programs Instructors who lead engaging, hands-on, marine science activities for school groups on field trips at the Seymour Center. Gain valuable knowledge and experience as a science educator through teaching a variety of marine science concepts to students ranging in age from kindergarten to community college. Learn to lead outdoor tours to Long Marine Lab's blue and gray whale skeletons, marine mammal research overlook, invertebrate touch pools, and more. 

School Programs Teaching & Project interns must complete the Seymour Center School Programs Instructor training and commit to volunteering at least two to three quarters (three quarter commitments receive internship preference). Internship course credit can be earned after completing one or more quarters as a volunteer in good standing. 

Learn more about Seymour Center school programs and apply for an internship on the Seymour Center website.

Listing also found in the Environmental Education tab.

Contact: Volunteer Coordinator, volunteers@ucsc.edu


The Seymour Marine Discovery Center at Long Marine Lab hires a Visitor Programs Docent Training Intern each winter quarter. Responsibilities include working with the Visitor Programs Manager to develop teaching materials for the docent training course held at the Seymour Center from January - March. The intern will help set-up the room before each training starts, record lectures, upload videos to a training website, take notes, help clean up the classroom after each training, and many other various tasks. The intern must also create a presentation and present a selected marine science topic to the docent training class.

Docent training volunteer and internship applications will become available in October 2023

---

Sprout Up

Listing also found on Campus tab.

Contact: Kendall Post, kendall@sproutup.org

Sprout Up is a project of Environmental Volunteers founded in 2009 by undergraduates to instill a love for learning and an ethic of sustainability in our youth. Our environmental science & sustainability program links teams of college-student instructors with 1st and 2nd grade classrooms for weekly activities, experiments, and discussions that explore the relationship between humans and the natural world. We have also provided leadership development and training to over 3,500 college student volunteers. 

Sprout Up is excited to partner with motivated college students with a passion for equity and environmental change to work on creating new Sprout Up chapters at their colleges and universities. Through your work with Sprout Up you'll develop critical leadership, education, and environmental skills, make a difference in your community, and empower the next  generation of environmental stewards!

---

Ventana Wilderness Alliance

Listing can also be found under Environmental Justice

 Contact: Daniela Cervantes; dani@ventanwild.org

"Youth in Wilderness seeks experienced backpackers and enthusiastic naturalists to assist in the leading of Environmental Education and Service-Learning field outings. Our primary field seasons are January through June, and September through December. We also run a limited number of day trips June-August. A positive attitude and a commitment to safety are required. Field Assistants would work closely with YiW Program Manager and YiW Leaders to coordinate and lead backpacking excursions in the Big Sur backcountry. A 2 unit internship--60 field hours-- entails joining 3 wilderness excursions in a quarter. Please inquire about trip schedule."